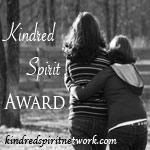 Kaysie (
Cross-eyed blog
and
Alabaster Box
) kindly awarded me with the "Kindred Spirit Award". She has put together this amazing network of "kindred spirits", designed for like-minded bloggers to find each other!
Please check out the new site!!!
And, as tradition, I am supposed to pick some bloggers who I consider "kindred spirits". Since there is not a set number, I will choose...
Kristen at
Everlasting Treasure
- one of my good pen-pals, very like-minded!
Katlyn at
God's Workmanship
- my sister!
Sara at
Sara's Scribbles
- another one of my pen-pals!
Vanessa at
Maiden of Purity
- one of my like-minded friends I met though the blogging world!
Rebekah at
By His Grace and For His Glory
- another like-minded blogging friend!
Others who I consider "Kindred Spirits" have either already been chosen or don't do things like this...