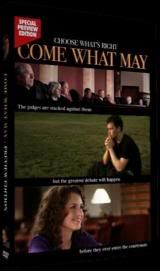 My brother and sister and I watched Come What May last night, and we absolutely loved it! It is a must see!!
RIGHT NOW, for a very short time (I believe today is the last day, but I'm not positive), Come What May is available for viewing on Godtube - the whole movie! So go
here
and watch it while it's still there! It's in 5 sections or so. You can also watch the trailer
here
.
This is a well done movie by homeschoolers and students at Patrick Henry college. The film group is
Advent Film Group
. There are a lot of great things in this movie. I still wouldn't recommend this for younger children, not because of language or violence or stuff like that, but because the court issue centers around the Roe vs. Wade case, is over the heads of youngsters and discusses abortion. Nothing is inappropriate in my opinion though!
If you watch it, please tell me what you think of it!!