Our goal was to leave Granny's house and be on the road by 8:30 Wednesday morning. And we left by 8:30. We were off to a great start—for about the first 5 miles. We all sat silently driving down the freeway...
All of a sudden, we heard a "
Pop
!!" and then a "
Thud
!" We instantly turned out heads towards the back window to find that the top half of our luggage shell had popped off our van and one of our suitcases was in the middle of the road. Dad instantaneously slowed down and pulled to the shoulder of the road. We all continued to sit with our mouths gaping open, watching cars try to swerve around our stuff. Not wanting to cause a wreck, dad tried to motion for cars to pull over a lane while he pulled our torn up bag and stuff off the freeway!!
We happened to be in the right hand lane, so most of the stuff was in the closest lane; however, some of the stuff was getting blown across the freeway because of the cars zooming by. Thankfully, only one bag, our swimsuit/towel bag, and a bag of shoes flew out of the luggage shell. In the midst of the traffic, dad crossed the 3 lane freeway in its entirety to retrieve a tennis shoe of Katie's that was thrown around and the top of the shell that was hit by a car and thrown to the other side of the road. (the car was fine!) It's somewhat amusing to think of all that dad did at that moment, but believe me, we were holding our breaths as he tried to grab our stuff in the midst of the speeding traffic.
Dad called Granny who drove to us to put our luggage in her car. We returned to her house and dad made a trip to Wal-Mart to find some adjustable bungee cords. An hour and 45 minutes later, we were finally able to leave Granny's, with our shell securely strapped on. Dad said we wouldn't leave again until our top was secure, and it was! We made it home safely.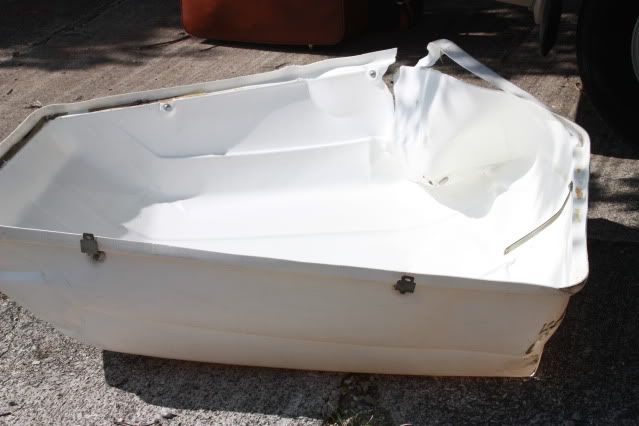 Our beat up top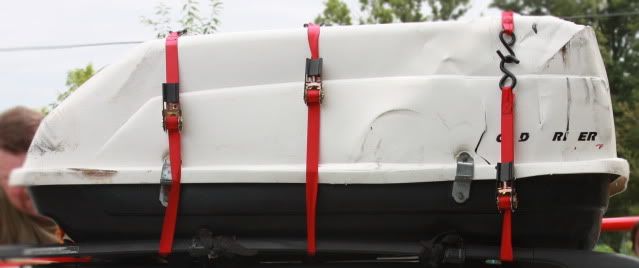 Bent back into place and strapped on tight!

There were so many things to be thankful for in the midst of our dilemma. Dad wasn't hurt during all his freeways crossings and retrieving our stuff. Only one bag and a plastic bag fell out. If all our suitcases had come out I doubt we would have been able to get all our stuff. The shell was reusable despite being beat up. We were 5 miles from Granny's and not 100. And we didn't cause any wrecks! Praise God!
After our adventure, God brought this song to my mind.
You Have Been Good
Oh Lord, You have been good
You have been faithful
Through all generations
Oh Lord, Your steadfast love
And tender mercies
Have been our salvation
For by Your hand we have been fed
And by Your Spirit we have been led
Oh Lord, Almighty God
Father unchanging, upright and holy
For by Your hand we have been fed
And by Your Spirit we have been led
O Lord, You have been good
You have been faithful
You have been good