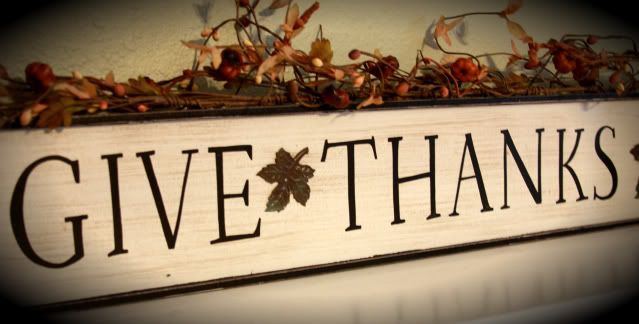 It's nearing that day of Thanksgiving, the day that we as a nation have
set aside to remember the things we're thankful for
. This is a special time of year, and we do need to ponder and consider the many blessings God has given us. But as believers, we also need to remember that we are to
always
be thankful. Thankfulness should not just be reserved for one day of year when we have a big dinner with family; thankfulness should be a continually evident quality in every believer.
Sometimes it's hard to be thankful in the midst of challenging circumstances and daily problems. But what would it be like if instead of focusing on the problems, you found something to be thankful for in them? How 'bout…
The next time your sibling irritates or does something mean to you, thank God that He's given that sibling to you and be grateful for what they do for you.
The next time someone does something kind to you…even something very small, thank them for it! Show a spirit of gratitude.
The next time things don't go your planned way, thank God that He knows what's best and is in control, no matter what happens. Also remember to thank Him for giving circumstances that reveal your sinful heart and enable Him to refine and shape your character!
The next time you are interrupted by a sibling needing help or a parent asking you to do something, instead of grumbling about it, be thankful that God has given opportunities for you to serve, and that you have a family to serve.
A complaining, sharp tongue is contagious. One person with a bad attitude in the family often upsets the entire household. Don't let that person be you. When tempted to be upset or ungrateful, remember all the things you do have, and learn to continually be thankful! Many Scriptures remind us of the importance of a grateful heart. Colossians 2:7 tells us to be "
abounding
in thanksgiving". 1 Thessalonians 5:18 exhorts us to "give thanks in
all
circumstances". And Colossians 3:17 tells us "Whatever you do, in word or deed, do everything in the name of the Lord Jesus,
giving thanks
to God the Father through Him." Believers should be the most thankful and grateful people around, because we are the ones who have been saved from the depths of our sins! Let's set aside time to thank God during this season of Thanksgiving for all He has done for us and all that He has blessed us with, but let's not associate thankfulness with Thanksgiving alone, let's learn to be thankful daily!
"I will give thanks to the LORD with my whole heart"

~Psalm 9:1