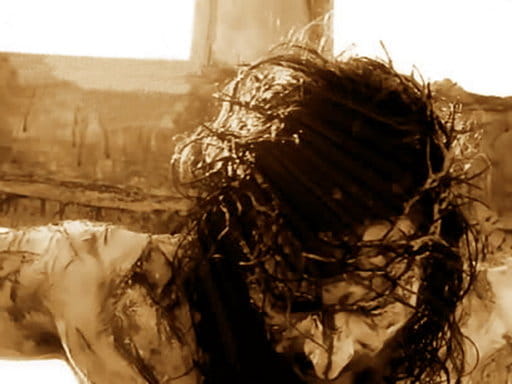 The list of your sins goes on and on and on and on. And I [God] hate these things inside of you. I'm filled with disgust, and indignation for your sin consumes me.
Now, drink my cup!
And Jesus does. He drinks for hours. He downs every drop of the scalding liquid of God's own hatred of sin mingled with his white-hot wrath against that sin. This is the Father's cup: omnipotent hatred and anger for the sins of every generation past, present, and future — omnipotent wrath directed at one naked man hanging on a cross.
The Father can no longer look at his beloved Son, his heart's treasure, the mirror-image of himself. He looks away.
Jesus pushes himself upward and howls to heaven, "My God, my God, why have you forsaken me?"
Silence.
Separation.
Jesus whispers, "I'm thirsty," and he sags.
The merciful centurion soaks a sponge in sour wine and lifts it on a reed to Jesus' lips. And the sour wine is the sweetest drink he ever tasted.
Jesus pushes himself up again and cries, "It is finished." And it is. Every sin of every child of God has been laid on Jesus and he drank the cup of God's wrath dry.
From
The Father's Cup
, on
Desiring God
. Click
here
to read the whole story.